Handy Manny's Repairshop is a location located within the town of Sheetrock Hills, next to Mr Lopart's Candy Store. Handy Manny's Repairshop is one of the main settings in every episode of the TV series, Handy Manny. It is the place of which Manny would do his small repairs with his tools, and it is where all of the residents of Sheetrock Hills would call if they have any item that is broken or damaged. Besides being their working area, the Handy Manny's Repairshop is also Manny's and the Tools's home.
First Floor
The first floor of the repairshop is Manny's working area. It is the place of which Manny and the Tools usually do their small repairs in. Within this floor, there are 2 work tables which allows simultaeous repairs. One of the tables contains a TV set. Next to the tables is a billboard, which contains Manny's blueprint designs and photos of himself and the tools. On the other side of the tables is drawer, which is where Manny and the Tools usually keep their spare parts in. On top of this drawer is Manny's Best Citizenship Trophy, which Manny won in the episode, and some jars of spare parts. Next to the drawer is another table, which contains more jars of spare parts, a pencil holder and a telephone, which rings all the time when he is needed to repair any broken items. On the left corner of the back of the   first floor is a sofa chair, while on the right corner is a shelf, which contains Manny's collection of toasters. At the back of the first floor is a giant garage door which leads to the back of the repairshop. It is usually where he keeps his motorcycle.

Second Floor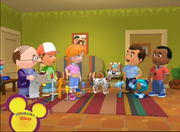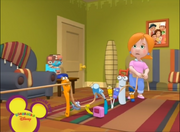 The second floor is Manny's Room. It is where Manny rests during the evening. In this floor, there is a sofa chair which can transform into a bed. On the right side of the chair is a table with on top of it a picture of Manny and his tools. The left side of the chair is a lamp. On the left side of the room is a sofa chair and next to it is a small table with a Aztec statue and a phone.
Trivia
It is believed that Manny's Repairshop was the original location of the Blacksmith's shop a hundred years ago. 
Ad blocker interference detected!
Wikia is a free-to-use site that makes money from advertising. We have a modified experience for viewers using ad blockers

Wikia is not accessible if you've made further modifications. Remove the custom ad blocker rule(s) and the page will load as expected.